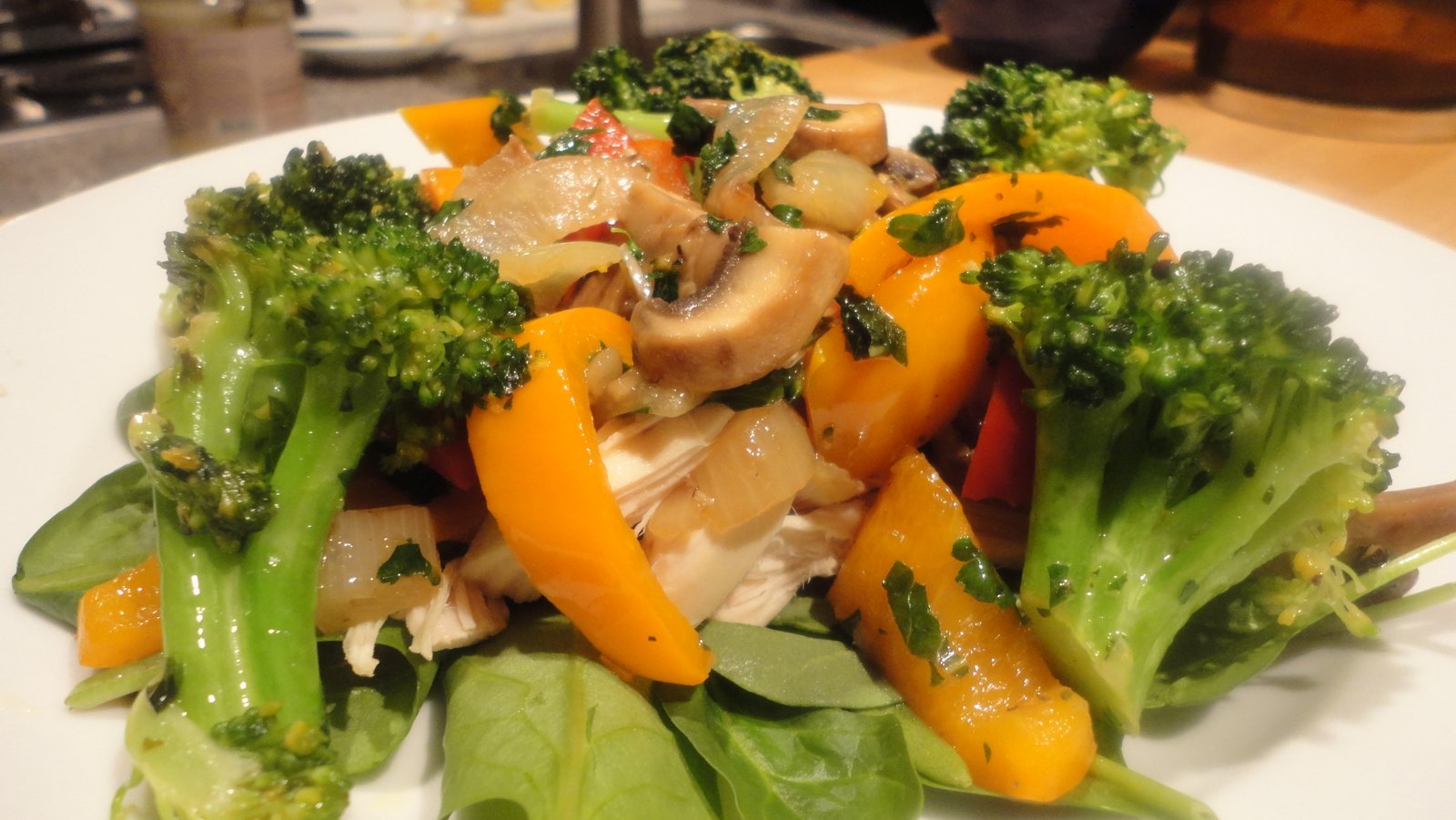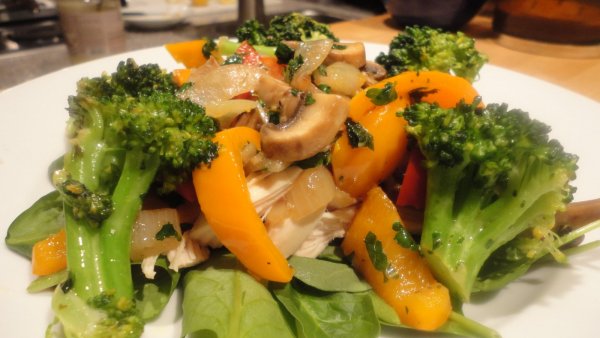 Making The Sauteed Vegetable and Chicken Spinach Salad
This Salad is so delicious and perfect if you want a low carbohydrate meal that will taste delicious… There is about 15g of Carbs in this meal. The combination Fresh Mint and Lemon create a refreshing flavor that your taste buds will love!
Ingredients:
Note: This recipe will make 2 Servings.
6 – 8 oz Roasted Chicken
2 Cups Raw Spinach
1/2 Yellow Onion
1 Head of Broccoli
4 Large Brown Mushrooms
1/2 Orange Sweet Pepper
1/2 Red Sweet Pepper
3 Garlic Cloves
1/4 Lemon
Handful Fresh Mint
Handful Fresh Italian Parsley
1 tsp Coconut Oil
1 tbsp Olive Oil
1/2 Cup Water or Chicken Stock
Sea Salt
Fresh Cracked Black Pepper
Dried Oregano
Process:
1. Wash and Cut Vegetables
2. Place 1 cup of Spinach on Plate
3. Top Spinach with 3-4 oz Chicken
4. In Large Pan Saute Onions Garlic and Coconut Oil on medium heat for about 3 minutes
5. Add peppers and Mushrooms and continue to Saute
6. Add water or chicken stock to the pan if the pan starts to brown
7. Add Broccoli Salt,Pepper and Dried Oregano
8. Add Fresh Mint, Parsley and Lemon
9. Continue to Saute until Broccoli is tender
10. Once Vegetables are cooked drizzle Olive Oil over Vegetables and combine
11. Place the warm vegetables on top of Chicken and Spinach
12. Serve and Enjoy!